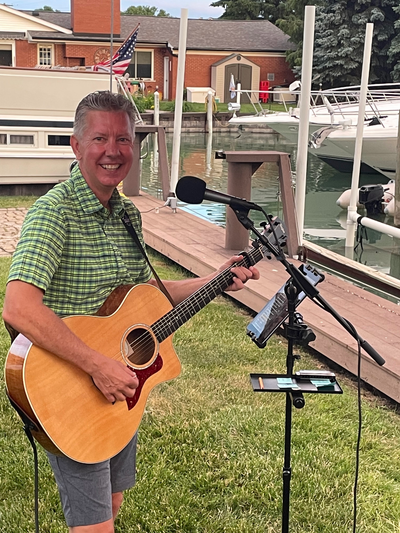 Music runs deep…
Larry K is a solo guitarist who has spent years cultivating a setlist that draws a loyal following at popular venues around the Metro Detroit area. His musical influences include classic 70's, 80's, Country, Motown, and Oldies at a wide variety of venues over the past four decades. He stays current through the many song suggestions from his wife, three musically inclined adult children, and his fan base.
Larry started playing professionally at the age of 15 as a drummer in a polka band. Through high school and college, he sang and played in local top 40 cover bands. Over the years, he has been an on-call drummer, singer (including musical theater) and an acoustic guitar/vocalist solo act playing a wide range of musical genres. Larry shines when performing in intimate settings where he can engage with the audience. He enjoys playing requests and prides himself on being familiar with a wide range of tunes. He brings to life the voices and styles of Elvis, Tom Petty, Johnny Cash, Neil Diamond, and Bob Dylan to draw the audience in and get a few laughs.
He defines his guitar style as classic Americana. He likes the challenge of arranging songs on solo guitar by keeping the flavor of the original song and using minimal instrumentation. Larry's typical setup includes percussive beats, harmonies, looping, and an occasional harmonica. His audiences have often said that they appreciate his vocals, sound variety, and engaging song selection. He shares a few cheesy jokes with the crowd but would never charge for them. For Larry, it's all about inviting folks on a nostalgic journey, leaving them smiling, and looking forward to the next show.
He and his wife have recently retired from corporate America and now Larry is focused on becoming a fulltime musical performer traveling the world. They currently explore the country in a self-built camper van. Larry picks up music gigs on the road at wineries, breweries, private parties, boat clubs, and campgrounds.